Garage Door Companies
, General Contractors,
Handyman
,
Hardwood Flooring Companies
, Home Builders, HVAC Companies, Roofing Companies, Electrical Contractors, Painting Contractors,
Plumbers
, Remodelers, and others in the "Building Trades" all offer services to businesses and consumers and need a steady stream of new customers to not just stay in business, but to thrive. Right now your services are in great demand but our customers finding YOU!
If you are spending your time trying to find your next customer you are not spending your time wisely. Instead, have customers finding you in the Google search results and reaching out to you!
At SEO by BANG! we understand your pain with paying a "home service company" that resells their leads to many contractors. Rather than chasing leads that your competitors are buying too, let customers find you.
We offer SEO solutions for contractor marketing. A solution that has a predictable monthly cost and a steady stream of new prospective customers contacting you.
SEO Solutions for Contractors
SEO for contractors website ideally starts with our SEO 1st approach to
contractor website development services
. Before starting a website design for a contractor, we thoroughly research what keywords your customers use to search for the services you provide. We will also perform competitive analysis into the digital marketing your competitors are using, both on their own website and the company's Google Business Profile. The Google Business Profile (formerly Google My Business), is the single most important factor in ranking in the local map pack/map based listings.
Armed with that data, we'll build an amazing website for your contracting company that has a site structure and content targeted and optimized to rank on the first page of Google's search results.
Next, we'll put our SEO services for contractors to work and increase your visibility in the search engines, targeting both the local search results in the map display, and the natural or organic results too. Visibility in the SERP's (Search Engine Results Pages) by BANG! performing Search Engine Optimization, leads to increased credibility, which then leads to profitability. And isn't that one of the main reasons you became a contractor?
Actual Results of SEO Services Performed for Contractors
The results shown to the right (or below if you are on a phone) are for Arizona Hardwood Floor and Supply which has been a BANG! client since 2016.

These results are directly from our monthly reporting software which provides updates our construction clients about their past and current rankings for multiple keyword phrases. Note the huge increase for wood floor refinishing from 100+, i.e. page 10 or higher in Google's results, to #2.

We also track improvements to your domain's authority score and your past and current backlink profile. We can also supply you these reports weekly you'd like to review them more frequently although on a weekly basis you likely won't see major changes.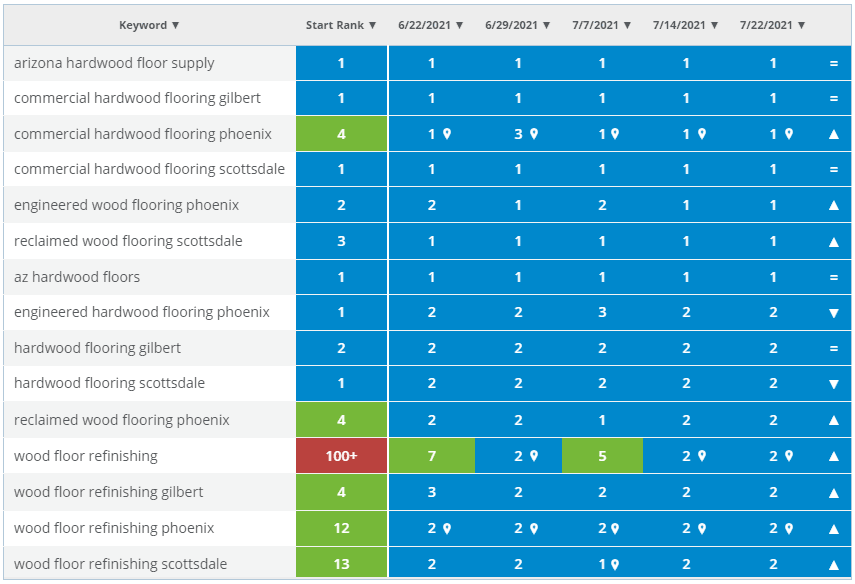 BANG! Understands Your SEO Needs
We understand what you need in an SEO agency. From developing the code for your website to creating content, we'll build web pages that your potential customers and your staff will love. Our SEO experts excel at providing exactly what your construction company needs to rank and stand out online.
When your new website is up and running we'll start on both local SEO tasks and monthly natural/organic SEO campaigns that will start the process of pushing you to the top of the results. All of our contractor SEO work is performed by our W2 employees based here in the U.S..
The BANG! contractor SEO process is a tested and proven technique designed to meet or exceed your business growth goals. Contact BANG! today by calling us at
(602) 427-5626
or using the Schedule a Consult button at the bottom of the page. We want to be SEO agency for your company!
FAQ's About SEO For The Construction Industry
What does it cost to SEO a website?
Two things first:
#1 - It's more cost effective to perform SEO on a site as it is built, than to "bolt on" SEO after the fact. For a typical small business site, excluding the content writing, it generally only costs an additional $1,000 to do on-page SEO during the site design or redesign process. That's the perfect time to do SEO. On an existing site, if things like the site structure, navigational links, page and image filenames on the site, aren't done correctly to begin with, it's cheaper to start from scratch vs trying to "fix" an existing poorly put together site.
#2 - Half of the SEO process isn't about your website. For long-term SEO success, you'll want to spend $1,000 or more every month, depending on how competitive your market is. This budget is used to add additional fresh website content on a monthly basis, either through adding brand new pages such as blog posts, as well as "beefing up" existing pages and optimizing them for SEO. These tasks are all what we consider on-page SEO.
Off-page SEO on the other hand, includes tasks that include...
Building site citations across local directory listings
Adding listings to online directories appropriate for the construction industry
Guest posts on other websites in your industry that provide dofollow backlinks, back to your website
Sponsorships on organizations websites, often not-for-profits, that are either relevant to your contracting services or your geographic area. These links back to your website are often quite strong
Regularly building links from other relevant websites to yours
Off-page SEO tasks like these should be half of your SEO budget. A good SEO agency will perform these tasks on a monthly basis, yet studies show agencies spend less than 1/4 of their time building these important links. In our opinion, that's the number one reason an SEO campaign fails... failure to acquire high authority and relevant links to the website.
You can view our
SEO Packages & Prices here
.
How much do SEO services cost?
On a typical contractor website it adds apx. $1,000 dollars to the cost of building a website. Then an ongoing monthly budget of $1,00 to $3,000 per month for the SEO campaign that includes updating and optimizing website content, new content development such as blog posts and link building. We also provide monthly reporting that includes monitoring analytics, current vs the last months keyword rankings, you current domain authority score and your backlink profile showing growth over time.
Click here for full details of our SEO packages and pricing
.
How much is SEO per month?
A typical range is $1,000 to $3,000 depending on the SEO work to be performed, tasks to be accomplished during the month and how competitive your specific keyword phrases are to rank for. For example, in the Phoenix, AZ metro area, most contractor related keyword phrases are highly competitive.
Click here for full details of our SEO packages and pricing
.
Why does SEO cost so much?
SEO is very time intensive task. SEO experts will spend many hours working on your campaign every month. It's a highly labor intensive job. At BANG! we have proven track record and an SEO team with decades of experience. They'll be analyzing a lot of data every month using SEO tools like Semrush which isn't an inexpensive tool on it's own. Especially when starting your SEO project, they'll be contacting you frequently about your digital marketing expectations and needs. There then will likely be follow-up questions after that first agency-client meeting. They need to conduct a thorough analysis of the your businesses marketing goals to make sure they are on the right track to deliver a contractor SEO success story for you. And before you decide SEO is expensive, read the next question...
Is an SEO campaign better than Google ads?
We think so for several reasons.
#1 with google ads 3/4th to 4/5th of people completely ignore Google ads. Can you really afford to ignore that high a percentage of your prospective customers?
#2 Google ads are pay-per-click, meaning anytime someone clicks on your ad, you just paid for that click... regardless of whether or not the customer follows through and gives you their business! Even the most optimized Google ad campaigns and websites convert less than 10% of the time. That means you wind up paying for 10 ads just to get 1 person to contact you. That means that $10 per click ad, may cost you $100 to just
talk
to 1 customer. Again, that doesn't mean that 1 potential customer is going to do business with you.
In comparison, our SEO campaign doesn't cost more if Ten or Ten Thousand potential customers come to your website Your cost is the same regardless of how many site visitors we create for you.
One other big advantages of SEO, is unlike Google ads,
the SEO work we do today will last for years
. With ads, when you stop paying, the ads, and the customers, stop immediately.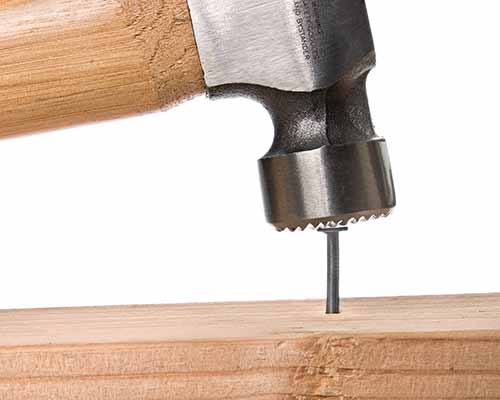 What does an SEO company actually do?
The short answer is a series of tasks done by an SEO expert, both on the site itself, and off-page tasks such as building backlines, with the intent to increase search rankings for the website on the search engines. Increasing the visibility of a site to page one of the search rankings results in more traffic from potential customers searching for your services.
A reputable SEO company, specializing in internet marketing strategies for contractors, will have their own contractor website design team, and their own SEO team made up of W2 employees, not outside contractors that will come and go. The right firm will be well positioned to take care of most, if not all of your digital marketing needs. We say most, because some SEO firms, including BANG!, do not provide SMM (Social Media Marketing) services as it does not provide contractors SEO ranking improvement. If SMM is something you desire as well, we have have other agencies we can refer you to who are dedicated to social media.
Which is the best company for SEO services?
Not to brag, and is it bragging if you can really do it, but BANG! should be on your list of firms to review if you are looking for SEO for your contractor business. We've worked with many contractors with a wide variety of specialties, and have never had a website we couldn't improve their rankings significantly. For example, we helped a Scottsdale, AZ plumbing company,
Apple Plumbing Services
grow their Internet sales 440% in just six months! See our
reviews page
for a video featuring Joni Vore from Apple Plumbing.
One of the other distinguishing benefits of BANG! is our support team that responds quickly to your requests, often within an hour. We also have our own SEO team... not outsourced to India.
BANG! website designers and developers also understand how to code so if you have a special requirement for your website we can build it for you.
Last, by handling our own hosting and managing our own servers, we have better performance than most of our competitors. We control both which websites are on which server and how many websites are provisioned on each server making server performance a non-issue at BANG!. Our competitors, well they often don't have this kind of control and their hosting companies load too many sites on a server and then the site speed and Google Core Vitals numbers suffer.
With decades of experience why not give us a call today at
(602) 427-5626
or use the button below to schedule a free SEO consultation.
Is Google SEO dead? Is SEO a dying industry? Will SEO exist in 5 years?
No, far from it. More and more companies are investing in SEO because it works. Even Google says SEO will exist in the future. John Mueller, Google spokesperson, states "
SEO will still be popular in the future.
" He doesn't think that Google and other search engines will advance to the point that SEO will not be needed to get sites to rank well.
I have a website that is with a contracted web company who is doing a terrible job. What risks do I run in changing to a new SEO company with regards to my online positioning?
Unless your current contract has locked you in, make a move as soon as possible to a new SEO agency. The only risk I would caution you about is make sure you can keep your domain name. If the age of your domain is more than a year it has value and you should continue to use it. With that said, if your current SEO company isn't showing progress in getting you on the first page of Google, it's time for a change. You really have very little to lose. The main reasons companies switch to a new SEO agency is lack of ranking results by their existing SEO services provider. Monitor the web reports or analytics on the site. You should see increased visitor traffic after a few months. By the way the 2nd reason companies switch SEO firms is lack of communication from the agency.
Ready make a positive change? Give BANG! a call at
(602) 427-5626
or click the button below to schedule a no obligation, free SEO consultation to discuss your SEO needs.
Schedule a Free Consultation Today